Happy Birthday, Tristian!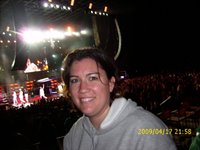 It's Tristian's birthday today. 10 years old now, and we're happy to celebrate it with him. He's getting an extra party Saturday for him and other family who have birthdays close to celebrate with much of Mandy's extended family (at least he'll get to join in after his football game). We started using the swimming pool again this week and he'll have a pool party with his friends to celebrate as well. It has been some time since we've posted an entry here. The last month has been a busy month, and fortunately we're still gainfully employed and very, very blessed. If you didn't have a chance to experience General Conference, we highly recommend you
download the messages
and play them on your MP3 player to and from work, working in the yard, or wherever you have the chance. The messages from our prophets are much needed for our time here and now... this is not a time in history for any of us to get caught without oil in our lamps!
Mandy and I had a fun weekend in the LA area. If you use Facebook, you may have seen our pictures posted from the New Kids on the Block concert. Here are a couple of trip photos for you to enjoy. By the way, we stayed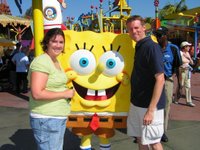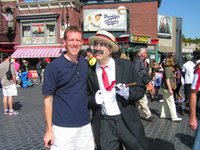 in Simi Valley for the weekend which is home to the Ronald Reagan Library (and Air Force One). I quite frankly recommend it over Disneyland--any day! Right now there's even an original written transcript of the 1215 Magna Carta on loan to them--what a privilege to see it! Let me say though of our visit, that it was remarkable to experience again the great man that Ronald Reagan was. No man is perfect, but I truly believe his heart and desires for the welfare of his countrymen were. I wish Pelosi would turn out the lights one more time so all of congress could take a worthwhile day off and spend at least four hours there at the Rea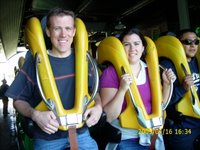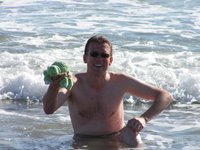 gan Library (especially including her) to ponder their positions and roles. If they could soften their hearts there for just a moment, the effect would be remarkable! Yes, I'm a dreamer.
However, if you have some time, President Obama is about to follow in the presidential tradition of addressing the graduating class of Notre Dame University. I believe you'll find it time well spent, and inspiring to view
President Reagan's 1981 address
. This man understood us--he loved his country and its people!
P.S. Thanks for all your votes--they boosted me into the top 10, and while I didn't win the big prize to sing at the game, Tristian and I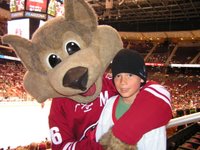 were able to go and see an exciting 6-5 overtime win for Phoenix up close. Here's
my competition performance
. Not perfect, but I love to sing the national anthem boldly and with all my heart.