10 years stronger!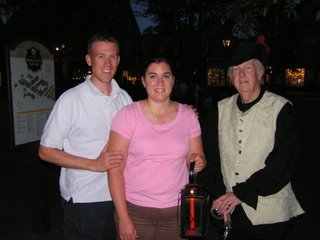 We can't let this entry go undone. We celebrated our 10 year wedding anniversary on Thursday, May 1 in
Colonial Williamsburg
. The children stayed with Mandy's parents, and our trip was absolutely perfect. A wonderful way to celebrate! The picture posted is with our "Ghost Tour" guide. We saw the whole of the Historic Triangle area and even spent a fun day at Busch Gardens Europe. As for our marriage, it certainly takes effort and sacrifice, humility and courage from both of us. The result: it just keeps getting better!!!