Did I mention how wonderful my husband is?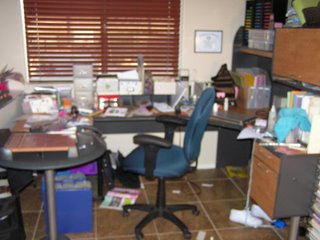 This post is a little late in coming, but here it is. A couple of weeks ago I was complaining that I haven't been able to scrapbook since we moved. I really wanted to get organized, but I just didn't have what I needed. Quintus noticed that my work area was just way too tiny. It doesn't help that I am a messy person. Everytime I would go into my corner to work, I would feel the opposite of inspiration and end up giving up after a short time. I tried to go to the store to work, but the closest one is so far away and I have to sign up weeks in advance--I don't plan in advance, so it wasn't working out. Anyway, the day before Mother's Day, Quintus borrowed my dad's truck and then locked himself into the scrapbook room. The whole day I was worried. I told my mom that I was worried--he just doesn't understand what I need and he would spend a lot of money on something I didn't like.
Boy was I wrong! Quintus got me this awesome desk that really does work. I am still getting a few more cabinets and getting it organized, but I have been able to get some pages done the last week! It is such a therapy for me and I have really missed it. It is nice when I can pop in here when I have an extra thirty minutes or so.
Then this last Saturday he brought me roses. I don't know what he was feeling guilty about, but it was nice and I'll take it. But really, as long as he keeps letting me take Sunday naps, I am one happy woman.