Preschool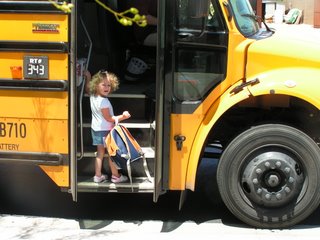 Those of you that know me know that I have some pretty strong opinions. One reason I homeschool is because I have strong opinions about education and want to do what is best for my children. I have always generally been opposed to preschool for many reasons. I did Joy School with the boys, but that is different. I don't want to send my kids off to school at 5, so there is no way I want to do that at 3. That is why I have agonized about the decision that I needed to make for the girls.
Miranda is sometimes hard to understand when she talks. I know that she needs some extra help with speech. The only way that I could get her any help was to send her to preschool. Well, I don't think they have helped much--confirming much of what I have thought about preschool. All the details would be a whole blog in itself. She seems to like it, although she complains about having to raise her hand and stand in line. She has worked on things like writing her name, numbers, and letters. Next year she will go to the elementary school for speech twice a week, but she will stay home with us for the rest of her school.
Now comes to Leah. She has a severe problem with her language. Her vocabulary is less than 20 words that I can understand. She needs help that I don't know how to give her. Early intervention had someone coming to the house, but on her third birthday she aged out of the program, which means to receive services she would have to go to preschool. What an agonizing decision for me to make. I was scared. She is so little, even for her age. She doesn't talk, so she can't tell me what is going on or ask for help there. She isn't potty trained (she can't tell me when she needs to go). And did I mention I don't trust the schools? I also didn't feel great about Miranda's experience. On the flip side, Leah needs help that I just don't know how to give. Maybe being in that environment will force her to talk since she can't just help herself and she won't have us to anticipate her needs. They can give her attention is ways that I can't right now--they will sing the preschool songs and read stories while I can work with the other kids and she will interact with kids besides her siblings who do everything for her. To get her any outside help, this was the way I had to go. We had a very long IEP meeting because I wanted to make sure that they really were creating an individual plan for her. I am still upset that she only got 6 weeks and then she has to go all summer, but I have fought that battle and lost.
So, now after 6 weeks, how do I feel? Six weeks isn't really enough time to see much progress. She still doen't really talk, but she does mimic more then she was. Unlike Miranda, Leah got a therapist that really cares and knows what she is doing. She gave us a plan of action for the summer. She was able to tell us what is going on in Leah's head--there wasn't anything that we didn't know, but now we have something we can work on. It is still going to be a very long, hard road. She has to learn to speak one syllable at a time. I am glad I put her in the school. It makes her happy. You can see her face light up when it is time to go to school. She feels like a big girl.
I guess you could say I have been humbled. I don't know everything. I still don't think all kids need preschool--study after study proves it. I still have stron opinions. But, I guess now I do see a place for it for Leah.