Wings by Aprilynne Pike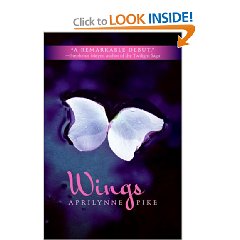 I have a friend from high school whose wife just recently had her book published. It has gotten a lot of really good press. Stephenie Meyer was helping to promote it. It was even picked up by Costco. I am always looking for books. How exciting when you know (through someone else I guess) the author. So of course I had to run out and get it the first chance I got. Now for an honest review.
In some circles (HarperTeens for one), this book is expected to be the next Twilight phenomenon, only it is faeries instead of vampires. It is a good book--very well written. I don't know that it will have the same effect of Twilight. It is written for the same age audience, but it seems a bit more juvenile. Or perhaps it is that Twilight is a bit more mature. I can't quite put my finger on the right way to say it. While I would never dare to compare Twilight to The Lord of the Rings, the best analogy I can think of is the comparison between The Lord of the Rings and the Chronicles of Narnia. They are both excellent series and deal with many of the same themes, but they hardly bear a comparison.
Still, Wings is a book worth reading. A young girl suddenly finds out she is a faerie when "wings" sprout out of her back. She was sent to the human world to protect the faerie world. She falls in love with a guy from each world and must make some difficult choices along the way. It is rather short and I was able to complete in just a few hours. It does have a couple of not-so-subtle sex references. It is not unclean, it is just a matter-of-fact approach to life. I would be perfectly comfortable having a young teenage daughter read it--in fact it is less suggestive than those vampire books. I just don't want you to say I didn't warn you. It is written by a Mormon author and she stays true to her values. I enjoyed it. I will read the next when it comes out, but I am not waiting with bated breath.
Now, I have to get ready for Monday again. This time I get to take the girls with me as I run around and I need to sit with Ammon at abacus class because he seems to be having a hard time concentrating. Hopefully Erin will be cool with us invading her house again--I forgot to call her today, so I will have to call in the morning.